Mar 13, 2014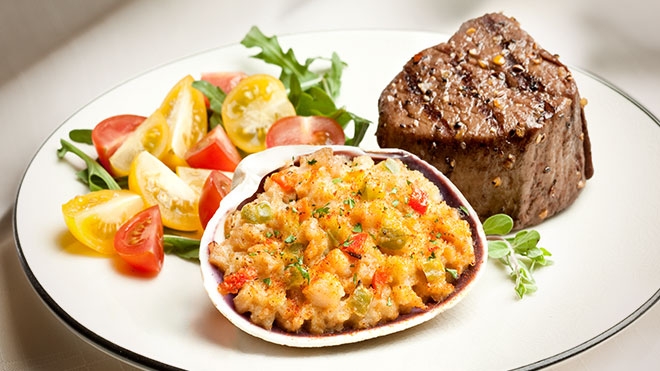 Explore / Recipes
Surf & Turf
Our Grill-Ready Stuffed Clams or Scallops are a perfect match with a New York Sirloin Strip or Rib Eye steak fresh off the grill.
Ingredients
1 package of your favorite Matlaw's stuffed clams
4 (6 ounce) sirloin steaks
2 tablespoons olive oil salt and freshly ground black pepper to taste
8 cloves garlic, minced
4 sprigs fresh rosemary
Directions
For the Steak
Preheat grill for high heat. Rub each steak lightly with olive or canola oil to ensure the steaks don't stick to the grill. Season with salt and pepper. Rub fresh garlic into both sides of each steak. Let stand for 15 minutes. Place the steaks on the preheated grill, and immediately turn after 30 seconds (this first turn is to ensure that one side is seared). Place the fresh rosemary sprigs on top. Cook 7 minutes per side, or to desired doneness, remembering to remove the rosemary sprigs before turning, and to replace on top of the meat after turning.
For the Clams
On the Grill: Remove clams from tray. Wrap clams in a foil pouch – leave the top open for a crispy top or closed for softer, moister clams. Place wrapped clams on the preheated grill until and heat until hot throughout.
In the Oven: Remove clams from tray. Place clams on baking sheet into a preheated 450°F oven. Cook for 30 minutes.
Tip
Serve the Steak and your Favorite Matlaw's Stuffed clams for a delicious New England treat!