Mar 11, 2014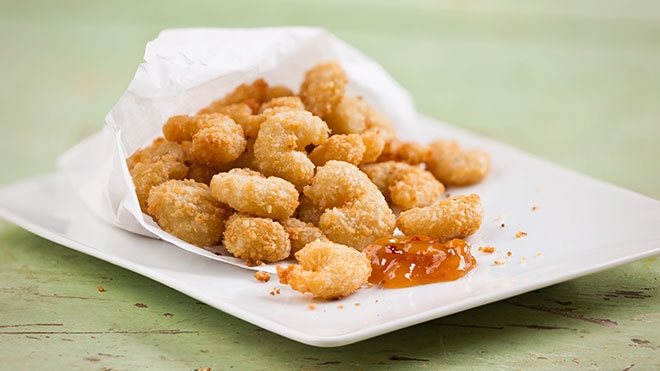 Explore / Recipes
Popcorn Shrimp with Mango Chutney
A quick treat with a twist.
Ingredients
2 boxes of your favorite Matlaw's Popcorn Shrimp
2 cups sugar
1 cup distilled white vinegar
6 cups mangoes (4 to 5), peeled and cut in 3/4-inch pieces
1 medium onion, chopped (about 1 cup)
1/4 cup crystallized ginger, finely chopped
1 garlic clove, minced
1 teaspoon mustard seeds, whole
1/4 teaspoon red chili pepper flakes (hot)
Directions
Preheat oven to 450° F. Place frozen shrimp in a single layer on a baking sheet, leaving space between shrimp. Bake uncovered 8 minutes each side, or until coating is golden brown and crunchy. Turn shrimp over after 8 minutes of cooking. Serve with mango chutney sauce for a spicy kick!
For the Sauce:
Combine sugar and vinegar in a 6 quart pot; bring to a boil, stirring until sugar dissolves. Add remaining ingredients and simmer, uncovered, until syrupy and slightly thickened, 45 minutes to 1 hour. Stir occasionally during cooking. Pour into clean, hot jars leaving 1/2-inch headspace; close jars. Set in a water bath for 15 minutes.
Tip
Try it with Matlaw's Coconut Popcorn Shrimp. It's a favorite around here.