Apr 25, 2014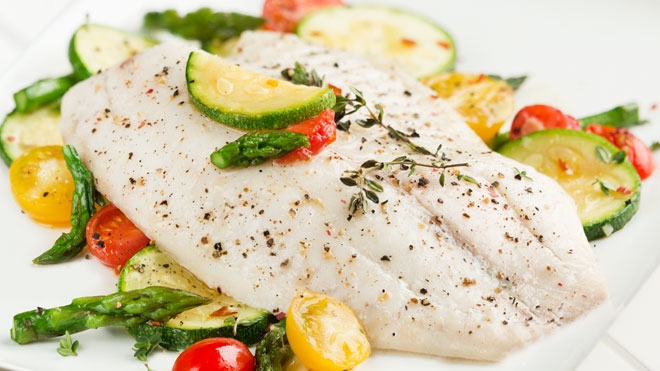 Explore / Fish
Oven-steamed Tilapia en Papillote
En papillote is French for "in parchment" — a classic cooking method that traps all the flavors and nutrients of the vegetables and keeps the fish moist and tender.
Ingredients
Parchment paper
4 fillets Matlaw's Tilapia
1 tablespoon olive oil
4 fresh thyme sprigs
1/4 lb asparagus (no more than ½" in diameter) cut into 1" pieces
1 large zucchini; trimmed and cut into 1/2" slices
1 teaspoon minced garlic
1/4 teaspoon red hot pepper flakes
1/2 pint cherry tomatoes; cut in half
2 tablespoons of butter
Lemon wedges; for serving
Directions
In skillet, warm 1 tablespoon of olive oil and add minced garlic and pepper flakes and cook for 2 minutes. Add zucchini and blanched asparagus and cook on low until zucchini starts to soften. Add cherry tomatoes and cook 2 minutes more.
Tear four 15 inch-square pieces of parchment from roll and place 1 fish fillet in center of each. Season Tilapia with a little salt and pepper and divide skillet mixture over the four fillets. Top each with a ½ tablespoon slice of butter and a fresh thyme sprig. Bring edges of parchment up together over each fillet as if wrapping a present. Fold over about ½ inch and continue folding, leaving ½ inch of "air" in package. Fold each edge in as if making a paper airplane and then fold over top of package. Flip so seamside is down. Repeat for additional 3 packages.
Place the four packages on a rimmed baking sheet and bake in oven for 8 minutes.
Remove and place packages on two dinner plates. Carefully slit with a sharp knife and serve with lemon wedges.