Oct 31, 2014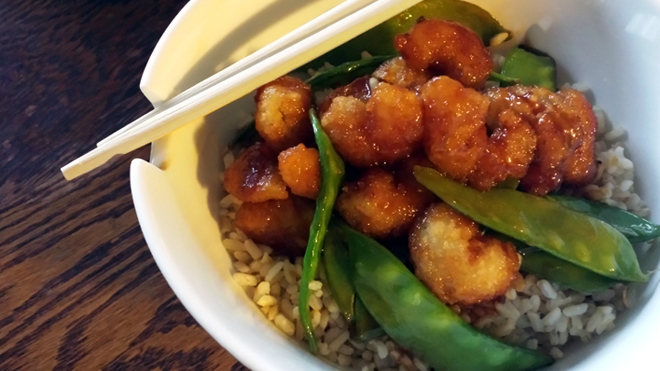 Explore / Recipes
Matlaw's Teriyaki Shrimp & Snow PeaPods
You can skip the takeout with our version of savory Chinese shrimp and pea pods. Easy to make, this dish packs big flavor.
Ingredients
Matlaw's Original Popcorn Shrimp
1 cup good Teriyaki sauce (we used S&F Chef Sauces Teriyaki Sauce)
Brown rice (we used an instant boil-in-a-bag variety)
OPTIONAL
Chopsticks
Directions
Preheat oven to 450°F and bake shrimp on a baking sheet for 8 minutes. Prepare brown rice as instructed in package and set aside. In a large frying pan, heat oil and heat snow peas for 1-2 minutes. Take shrimp out of the oven and using tongs or a spatula, add them to the frying pan. Pour 1 cup of Teriyaki sauce over the shrimp and pea pods and toss to coat. Heat until sauce is bubbling and serve immediately with rice.