Oct 2, 2014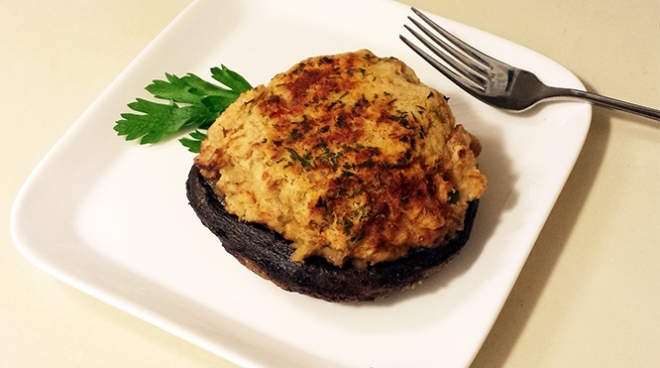 Explore / Recipes
Matlaw's Gourmet Stuffed Portobello Mushrooms
Think outside the shell! Try our decadent gourmet clam stuffing baked in a portobello mushroom cap for an impressive and satisfying entrée. The seasoned stuffing is easily transferable from shell to mushroom to make it surprisingly easy to prepare.
Ingredients
6 large portobello mushrooms
6 large Gourmet stuffed clams
Optional
Fresh chopped parsley
Hot sauce
Fresh squeezed lemon juice
Directions
Preheat oven to 400˚F. Defrost Matlaw's Gourmet Stuffed Clams in the microwave or for a few hours in the refrigerator. Place mushroom caps open face side down on a lightly oiled baking pan and sprinkle caps with sea salt. (We like the flake sea salt by Atlantic Saltworks which is harvested here in Gloucester.) Bake for 10-12 minutes then remove from oven. Flip the mushroom caps over and transfer to a clean non-stick baking sheet sprayed with cooking spray or lined with parchment. When stuffed clams have thawed completely, use a spatula or large serving spoon to transfer the stuffing from each shell into the mushroom caps. The stuffing is perfectly formed and seasoned so simply move the whole serving of stuffing directly onto the mushroom cap to retain it's shape. Bake again for 30-35 minutes or until stuffing is golden brown and a bit crusty. Remove from oven and serve immediately. If desired, finish with freshly chopped, flat leaf parsley and a bit of fresh squeezed lemon juice and hot sauce.