Oct 23, 2014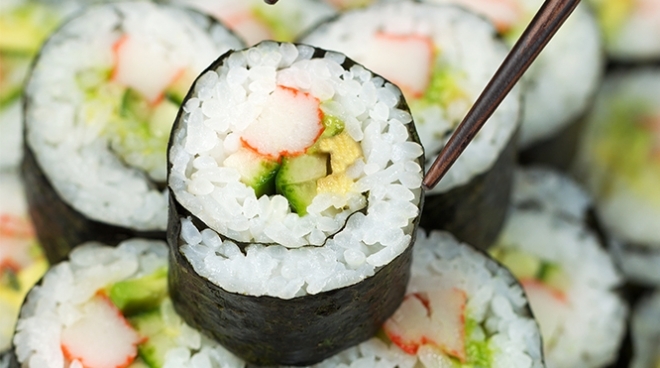 Explore / Recipes
Matlaw's Classic California Roll
Our precooked Crab Tasties work perfectly in California Rolls.
Ingredients
Matlaws Crab Tasties
Sticky Sushi Rice, cooked and cooled (As an easy alternative to preparing traditional sticky sushi rice, we had luck with Annie Chung's Rice Express White Sticky Rice which cooks in 1 minute in the microwave, available in the ethnic section of most grocery stores.)
Avocado sliced into approximately 3" long x 1/2" wide strips
Cucumber peeled and sliced into approximately 3" long x 1/2" wide strips
A very sharp knife
Water
OPTIONAL
Mayonnaise
Wasabi
Soy Sauce
Directions
With dry hands, place a nori sheet in the center of a bamboo sushi roll mat covered in plastic wrap. (A paper towel on a clean dish towel or a clean, dry work space or cutting board works as well.) Moisten hands and gently arrange a thin layer of rice across the entire nori sheet leaving 3/4" to 1" edge empty on the far end parallel to you. Use more rice for a wide roll, less for thinner. Cut Matlaw's Crab Tasties to 1/2"-3/4" strips or chunks, or shred and mix with mayonnaise or cream cheese if desired. In the center of the rice, lay an even strip of avocado, cucumber and Matlaw's Crab Tasties in a row parallel to the edge without rice. Use the wrapped mat or towel as a tool to roll the sushi tightly into a long, firm, even roll. Dab water along the edge of the nori wrapper to moisten it and then seal the roll. Transfer roll to a cutting board or plate and use a sharp knife to slice into 1/2" - 1" pieces, wetting and wiping the knife between each cut as needed. It is best to keep the roll in tact as you cut to make sure filling doesn't fall out. Plate with wasabi, pickled ginger and a high quality soy sauce. Also try this recipe with Matlaw's Shrimp or Panko Breaded Cod.