Oct 17, 2014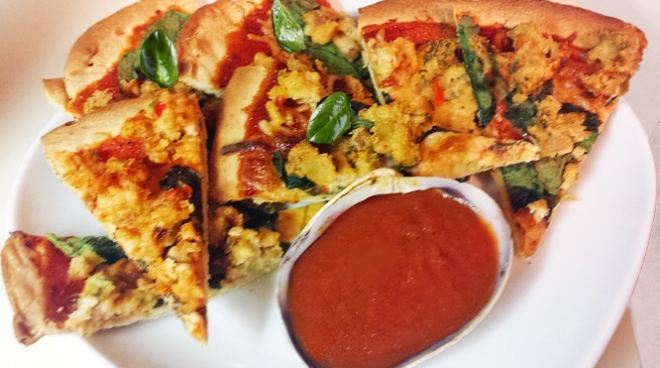 Explore / Recipes
Matlaw's Bacon & Cheese Clam Pizza Bites
Favorite comfort foods combine to offer a new spin on the classic.
Ingredients
16oz whole grain pizza dough or a pre-made THIN pizza crust (like Boboli)
4 Matlaw's Bacon and Cheese Stuffed Clams
1 cup shredded 2% mozzarella cheese
1 cup baby spinach
1.5 cups marinara sauce
Directions
Preheat oven to 425°F for cooking the pizza.Microwave clams two at a time for 3-4 minutes and set aside. Although we like baking or grilling our stuffed clams, for this recipe, we recommend microwaving them for easiest handling and the cleanest shell for later use as a bowl for the dipping sauce. Prepare your preferred crust and spread 3/4-1 cup marinara sauce evenly across the pizza then top with baby spinach and mozzarella. Place pizza in oven (3-4 minutes if using a prepared crust, 12-15 minutes if using raw pizza dough). While pizza is baking, spoon stuffing out of clam shells into a bowl. When pizza is halfway done, crumble Matlaw's Bacon and Cheese Stuffed Clam stuffing over the pizza. Return to the oven and continue cooking until the crust has turned golden brown. Slice pizza into small, bite sizes triangles. Fill empty clam shells with marinara sauce for dipping. Serve immediately.