Apr 25, 2014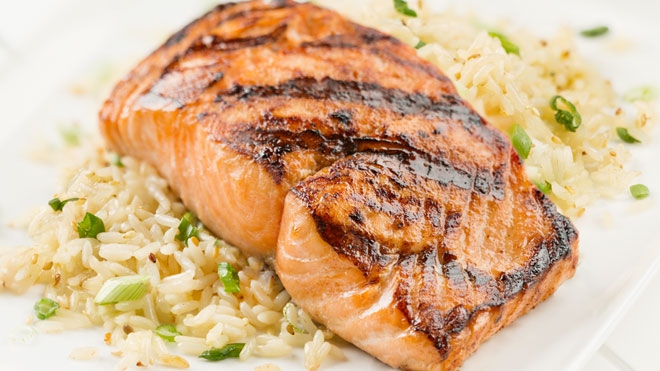 Explore / Fish
Grilled Teriyaki Salmon over Wasabi Sesame Rice
The sugar in the teriyaki sauce caramelizes during grilling for a smokey, salty sweet Asian flavor that perfectly complements the rich, meaty salmon.
Ingredients
½ cup teriyaki sauce
2 Matlaw's salmon fillets
2 scallions; white and pale green parts chopped
Matlaw's Salmon Fillets
¾ cup long-grain white rice
¼ teaspoon prepared wasabi
1 teaspoon sesame seeds
Olive oil for grill
Directions
Heat the grill. Turn the salmon fillets with the ½ the teriyaki sauce in a shallow dish to coat. Cover with plastic wrap and let sit for 10 minutes.
Place rice in a covered saucepan with 1 ½ cups of water and bring to a boil over medium heat. Turn down heat to simmer. Cook until all liquid is absorbed and rice is tender to the bite.
Brush hot grill rack with olive oil. Carefully place fillets on grill and cook, uncovered 4 minutes. Carefully turn fillets over (may need to use two spatulas). Brush with remaining teriyaki sauce and continue grilling until just cooked through — approximately 5 – 7 more minutes. Remove from grill.
Add wasabi and sesame seeds to white rice and blend thoroughly. Divide rice among two plates and top with fillets. Sprinkle with scallions and serve.