Mar 12, 2014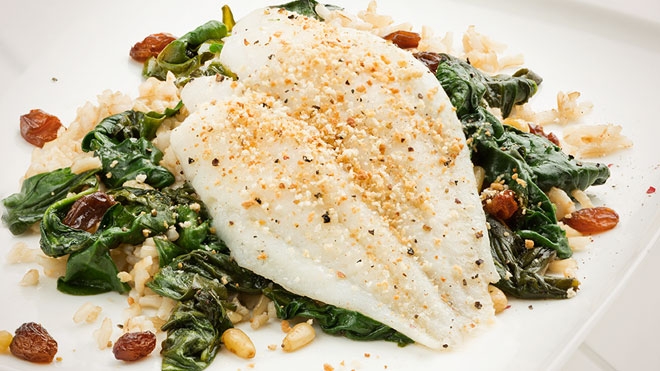 Explore / Recipes
Flounder with spinach, raisins and pine-nuts
Ingredients
1 package Matlaw's Flounder Fillets
2 tablespoons butter
1 bag of fresh spinach
¼ cup of golden raisins
1 ½ tablespoons pine nuts (walnuts may be substituted)
1 Tablespoons olive oil
2 tspns balsamic vinegar
¼ cup toasted breadcrumbs
Salt & Pepper
Directions
Heat oven to 425 degrees.
If serving over rice, measure out 2/3 cup and place in saucepan with 1 ½ cups water.
Set over medium-low heat to simmer and cook.
Roll flounder fillets and place seam-side down in a shallow, 9" X 13" baking dish.
Dot with butter, season with pinch of salt and freshly ground pepper.
Pour ¼ water into bottom of dish and bake for 20 – 25 minutes or until cooked through.
While flounder bakes, stem spinach and place in a colander.
Rinse and shake off some of the water.
Heat olive oil in a large frying pan.
When hot, place spinach in frying pan – gently stirring as it begins to wilt and cook.
After 4 minutes, add pine nuts, raisins and balsamic vinegar.
Stir two more minutes and remove from heat.
Divide rice (if using) among two dinner plates.
Divide spinach mixture and place ½ over rice on each plate.
Then top with baked flounder fillets.
Sprinkle with toasted breadcrumbs and serve.