Apr 28, 2014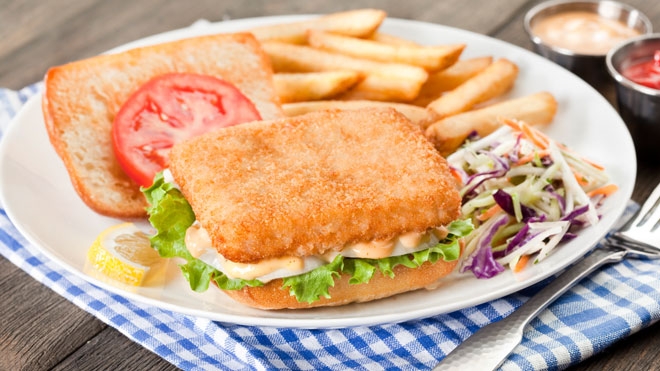 Explore / Recipes
The Classic Fish Sandwich
Ingredients
Matlaw's All Natural Fish Squares
10 large sandwich buns
12 tomato slices
8 romaine leaves, chiffonade
1 small red onion, sliced thin
5 tablespoon mayo
5 tablespoon mustard
5 tablespoon ketchup
Directions
Keep frozen until ready to use. Preheat oven to 425. Arrange Matlaw's All Natural Fish Squares on crumpled aluminum foil. Bake for about 20 minutes until crisp. To check if the fish is cooked, flake the fish with a fork at the thickest part. Flesh should be opaque and flake easily.
For sauce: Add mayo, mustard and ketchup in a small bowl and mix condiments until evenly blended.
Spread sauce on both sides of toasted buns with a rubber spatula. Layer some romaine on the bottom, then top with Matlaw's All Natural Fish Squares, sliced tomato, red onion and then finally, a little more romaine on top. Add top portion of bread to make a sandwich.