Dec 29, 2013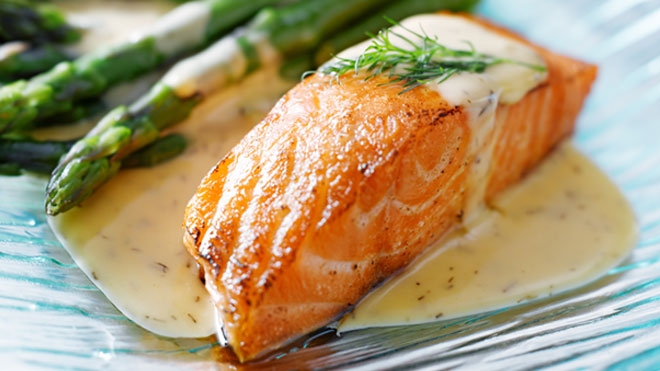 Explore / Recipes
Broiled Salmon
Serve this elegant dish with asparagus and a light cream sauce.
Ingredients
4 Matlaw's salmon fillets
salt and pepper to taste
2 Tbs. unsalted butter
2 Tbs. flour
1 c. heavy cream, warmed through, plus more for thinning
1½ Tbs. stone-ground or Djion mustard
1 Tbs. dried dill or 2 Tbs. fresh
2 Tbs olive oil
Fresh chopped parsley, for garnish
Directions
Preheat Broiler to high
Pat salmon filets dry with a paper towel. Season well on both sides with salt and pepper. Set aside.
Melt butter in a medium saucepan over low heat. Whisk in flour until combined. Cook for 2-3 minutes to cook out flour flavor. Slowly add the cream to the flour mixture, whisking continuously to remove lumps. Whisk in the mustard and dried dill. Thin with more cream or milk to desired consistency. Season to taste with salt and pepper.
Broil salmon fillets on high for 11-13 minutes or until browned and cooked through.
Watch carefully and check for doneness.
Serve with mustard sauce; garnish with parsley.
Serve immediately.
Tip
If you happen to have leftovers – which isn't likely – slice the fish, refrigerate and serve atop a green salad for a low-carb lunch dish.