Oct 23, 2015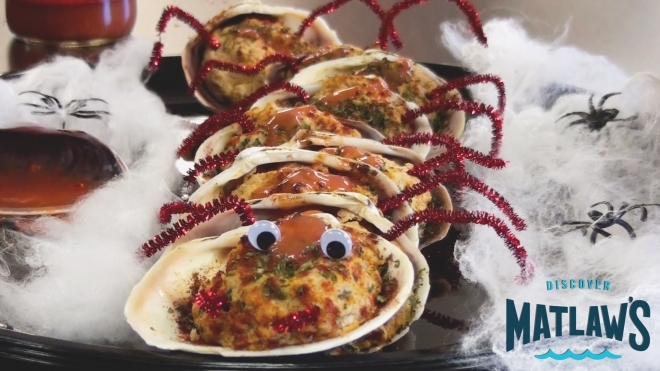 Explore / Recipes
Seafood Creepy Crawler Platter
Create this easy family fun seafood platter for your halloween party!!
Servings:
18 servings (18 Clams)
Ingredients
Matlaw's New England Style Stuffed Clams
Hot Sauce
Extras:
1 bag of Pipe Cleaners (any color)
2 Google eyes
1 long platter for placement
Halloween Decorations of your choosing!
Directions
Cook clams on a baking sheet covered in tinfoil in the oven for 25-30 minutes- 450 Degrees. Once clams are done, let cool for 10 Minutes. Place the clams on your decorated platter in the shape you want your creepy crawler to be. Cut the pipe Cleaners into fourths. Use each fourth as a leg. Bend the "leg" and stick into the side of the stuffing. Finish off the creepy crawler with a Hot sauce drizzle for that extra added zing!
Tip
Fun, Easy, Quick, and delicious! A platter to awe your guests and keep up the halloween spirit!