Oct 7, 2014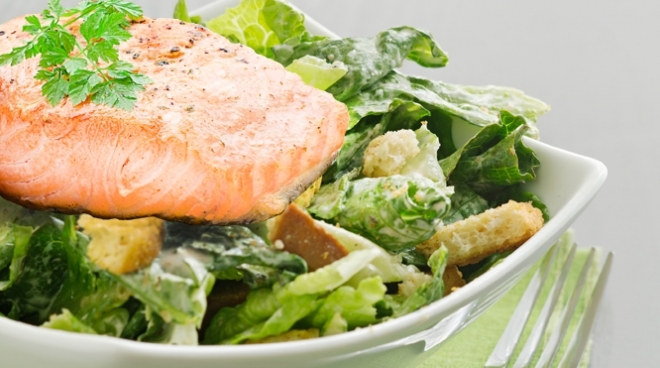 Explore / Recipes
Matlaw's Signature Salmon Caesar Salad
Adding salmon to this classic side salad creates a terrific main dish for lunch or dinner. Easy to assemble, the robust, savory tang of caesar dressing and the real crunch of fresh croutons works best with nice, simply prepared salmon. You can bake, grille or pan fry your salmon, but we love how soft, poached salmon is with this recipe.
Prep Time:
10 (plus 3-4 hours for thawing)
Ingredients
2 Matlaw's Signature Salmon Fillets
1 head of Romaine
Croutons
Caesar Dressing
Optional
Anchovies
Shredded Parmesan
Rinse and chop a head of romaine and place in a large bowl. Add croutons and caesar dressing to taste (we recommend Ken's Steakhouse Chef's Reserve Tableside Caesar) and toss. Assemble dressed romaine on plate and if desired, sprinkle with Parmesan and chopped anchovies.
Directions
Defrost fillets as directed on package. In a large sauce pan, bring 4 to 5 cups of water to a boil. When water is at a full boil, use tongs or a slotted spoon and gently add thawed salmon fillets. Poach salmon for five minutes then remove pan from heat, letting fish sit in the water while you prepare the rest of the salad.
Remove Salmon fillets from water and place on a plate to drain then arrange over salad. You can also use a fork to gently shred big pieces of the fish and spoon them over salad. Enjoy with chilled white wine.