Sep 24, 2014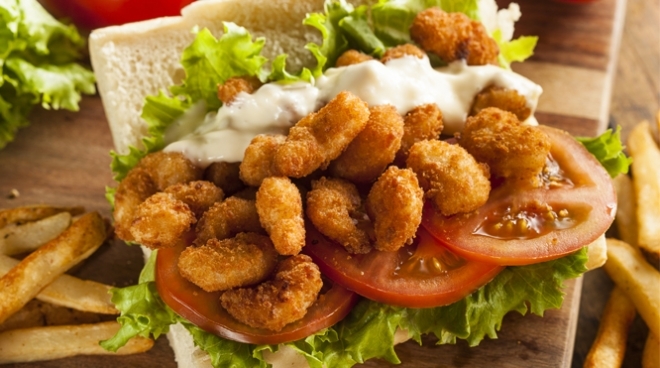 Explore / Recipes
Matlaw's Popcorn Shrimp Po' Boy
Our take on the New Orleans classic is a hearty and delicious option for lunch or dinner that is easy to assemble. You can make it "dressed", "hot" or "regular", or create your own special version of this versatile seafood sandwich.
Ingredients
Matlaw's Original Popcorn Shrimp
Crusty bread (we prefer to use small loaves of Gloucester's own Portuguese rolls for their light, crispy crust and soft, airy center)
Butter
Mayonnaise
Ripe tomato
Crisp romaine
Dill pickles
OPTIONAL
Spicy mustard
Onions
Hot Sauce
Spicy Aioli
Directions
Prepare Matlaw's Original Popcorn Shrimp as directed on package. Lightly toast bread and then spread with butter. Slice tomatoes and trim a few fresh leaves of lettuce. Layer the lettuce, tomato, pickles and 2-3 ounces of shrimp onto the bread. Spread a generous tablespoon of mayo over the top. Try with a few drops of hot sauce drizzled over the shrimp, or replace mayo with a garlicky aioli.
Tip
If desired, sprinkle with Paprika for a garnish. Serve with fries, cole slaw, or a cup of chowder.