January 28, 2015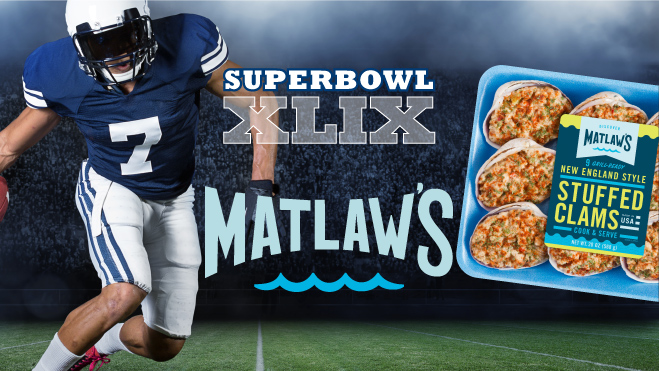 Slimming Super Bowl Appetizers
It's that time of year again. Super Bowl is almost here and no doubt you are in the midst of planning your viewing party. But before you fill up your menu with fatty foods that will expand your waistline into lineman status, try thinking instead about party favorites that not only taste great, but are great for you as well.
One football favorite that you won't want to miss is nachos. But instead of the traditional recipe that's rich in saturated fat, try out this easy to make seafood variety. Not only will the healthy fats and whole grains this recipe provides be good for your health, the taste will leave your guests "hooked" and coming back for more.
Clam Nachos
Servings: 6
Ingredients
12 ounces whole grain tortilla chips
6 – Matlaw's New England Style Stuffed Clam, microwaved
1 ½ cup black beans, soaked and rinsed
6 ounce low fat Mexican cheese, shredded
1 cup avocado, diced or mashed
1 ½ cup salsa
Directions:
After microwaving Stuffed Clam for two minutes, remove clam stuffing from clam shell. Set shell aside. On a large plate, evenly space out tortilla chips. Spread clam stuffing, beans, and avocado over top of chips. Sprinkle shredded cheese over top. Heat in microwave (or oven) on high for one minute, or until cheese has melted. Serve warm with salsa in clamshells for dipping.
When it comes to rounding out the rest of your game day menu, focus on whole foods that guests will love. For instance, try preparing a vegetable platter with a variety of dips ranging from hummus, to ranch dressing, to peanut butter. Scale down the fat and calories in typical options such as cheese and crackers by providing part-skim cheese options and whole grain crackers in addition to the common favorites. With a few easy adjustments, your party will be a hit with guests and your waistline.