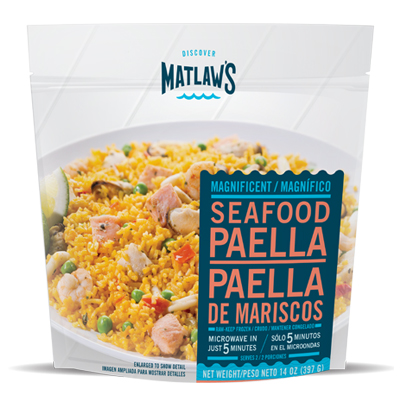 NEW! Seafood Paella
Considered the signature recipe of Valencia, Paella is seen on more and more menus at the trendiest restaurants. Matlaw's Seafood Paella features the authentic flavors of the original dish and includes chunks of flavorful salmon, along with sweet, succulent mussels, all tossed with vegetables and flavorful, seasoned rice. It's a healthy meal all into itself. Available in a 14oz bag
Preparation
See Instructions
Preparation Instructions
Remove seafood steamer bag from outer bag and place it in microwave.
Cook on high for 4-5 minutes. Steam bag will expand while cooking.
Leave the steamer bag in the microwave for 1 minute to allow the steam to subside.
Cut open the steamer bag (caution: content may be hot).
Mix thoroughly and enjoy!
Nutrition
See details