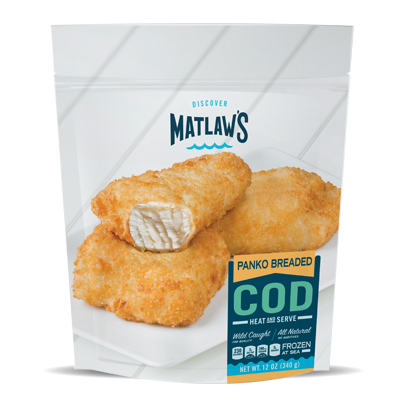 Panko Breaded Cod
The difference between Japanese panko and regular breadcrumbs is that panko crumbs are made without crusts. That's why our all-natural, wild-caught Panko Breaded Cod Portions (cut from whole fillets!) have such a light, flakey crunch.
Preparation
See Instructions
Preparation Instructions
Keep frozen until ready to use. Preheat oven to 425°F. Arrange frozen fish on crumpled aluminum foil or lightly greased baking sheet. Bake for about 30-35 minutes until crisp.
Tip: Cooking on crumbled aluminum foil will help prevent sticking. To check if the fish is cooked, flake the fish with a fork at the thickest part. Flesh should be opaque and flake easily.
Nutrition
See details