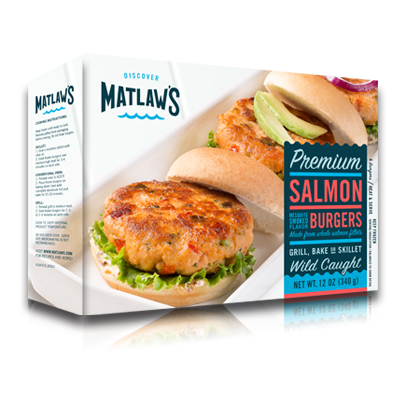 NEW! Salmon Burgers
Made from wild caught, whole salmon fillets, with a light mesquite smoked flavor, Matlaw's versatile Salmon Burgers are easy to cook in a skillet, on the grill, or in the oven in minutes. They make perfect sliders on a bun, or can be served on a salad or as an appetizer. Available in a 12 oz carton.
Preparation
See Instructions
Preparation Instructions
Keep frozen until ready to cook. Remove patties from packaging before cooking. Do not thaw burgers.
SKILLET:
1. Coat a nonstick skillet with olive oil.
2. Cook frozen burgers over medium-high heat for 3-4 minutes on each side.
CONVENTIONAL OVEN:
1. Preheat oven to 425°F.
2. Place frozen burgers on baking sheet lined with crumpled aluminum foil and bake for 20-25 minutes.
GRILL:
1. Preheat grill to medium heat. 2. Cook frozen burgers for 2 ½ to 3 ½ minutes on each side.
Cook to 160°F internal product temperature.
DO NOT OVER-COOK. SERVE HOT. Microwaving is not recommended.
Nutrition
See details