Jan 29, 2016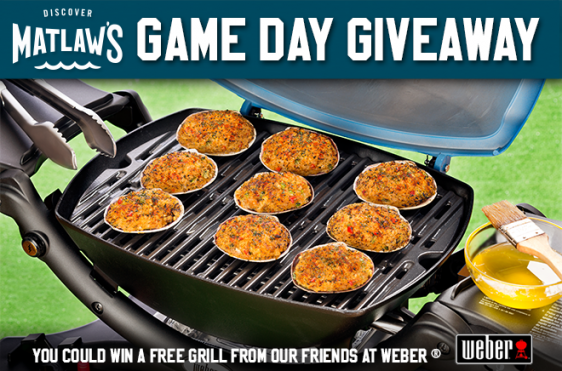 Score Big with Matlaw's "On the Grill" Game Day Giveaway!
Weber® & Matlaw's, creator of America's most popular Seafood Appetizer, are teaming up so seafood lovers and football fans can score BIG on game day! The 7-day football fun giveaway kicks off on February 1st. Entrants should visit Matlaw's on Facebook at www.facebook.com/Matlaws to "like" and comment on the Daily Questions posted there for a chance to win a FREE Weber® Grill Tool set and FREE Matlaw's New England Style Stuffed Clams and Scallops. Those who also share a post on Matlaw's Facebook wall about "Why I love Matlaw's" and including the #Matlaw'sGameDayGiveaway hashtag, will be entered for a chance to win the Game Day Giveaway GRAND PRIZE - a Weber® Q1200 Grill, Grill Stand, Grill Tool Set and Matlaw's New England Style Stuffed Clams and Scallops! (See the official rules here).
The perfect tailgate food, Matlaw's Stuffed Clams and Matlaw's Stuffed Scallops come served in a natural clam shell filled with succulent clams and bay scallops, golden breadcrumbs, spices, minced celery and green peppers, and in a variety of delicious flavors like Bacon and Cheese, Chorizo, and classic New England Style. They're great on the grill and so easy to prepare, you won't miss a single down during the big game:
Preheat the grill to 350-375 degrees
Place Matlaw's Stuffies directly on the grill grate
Close the lid and grill for 30-35 minutes
Serve topped with butter and lemon, or a dash of hot sauce for the truly adventurous
The Weber® Q® 1200™ Grill which features 8,500 BTU-per-hour input, has 189 sq. inches in total cooking area, two folding work tables, and a removable catch pan. Take this grill wherever you go with its Q® Portable Cart that folds up with a push of a button. With durable features like all-weather wheels and built-in tool hooks, this cart will keep you grilling Matlaw's at tailgate parties year round. Touchdown!
Matlaw's Stuffed Clams, Stuffed Scallops, and other frozen seafood products, can be found at grocery stores and supermarkets nationwide in the frozen seafood section. Matlaw's is dedicated to consistent quality and value, and is committed to always providing consumers with new products that delight both the palate and their sense of adventure.
Discover even more recipes, tasty food pairing suggestions, menu recommendations, special offers, coupons and more at http://www.matlaws.com/explore/recipes.
Weber, the kettle configuration, the kettle silhouette, and Q are registered trademarks of Weber-Stephen Products LLC. Used with permission. All rights reserved.